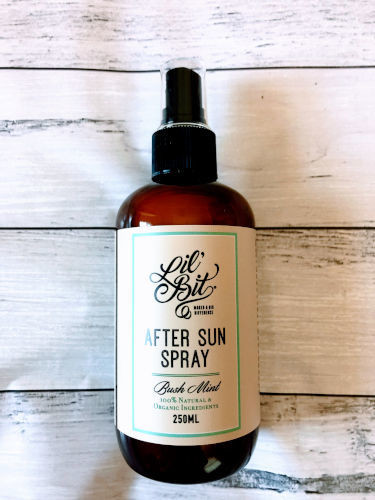 Lil' Bit Australian Bush Mint After Sun Spray 250ml
SKU 00203
Product Details
Made with Organic Aloe Gel, Organic Natural Vitamin E , Organic Fractionated Coconut Oil and Organic Witch Hazel with oils of ACO Certified Bush Balm Mint and Premium Australian Peppermint oils it absorbs quickly and leaves your skin feeling soooo good.

Directions: Safe for use on body and face. Great for when you need to cool down and hydrate your skin after a day in the hot sun.

Ingredients: ACO Certified Organic Witch Hazel, Demineralised Water, Organic Essential Oils including Prostanthera melissafolia (Bush Balm Mint), Mentha Piperita (Premium Peppermint Oil), Organic Aloe Barbadensis (Aloe Leaf Gel), Organic Glycerine, ctionated Coconut (MCT) Oil, High Grade Organic Natural Vitamin E (1300IU).

Product size: 250ml
Save this product for later