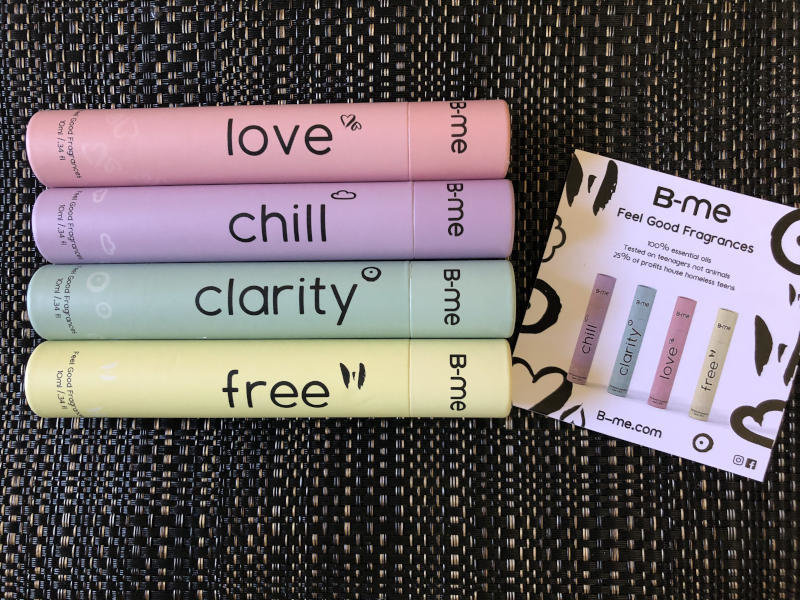 B-me 100% essential oil perfumes
SKU 00096
Product Details
These gorgeous B-Me perfumes come in four different fragrances, depending on the mood you want to create.
Love - Cuddle and embrace with Rose Absolute, Orris, Bergamot and Sandalwood.
Chill - Relax with French Lavender, Warm sensual Benzoin and calming French Clary Sage.
Clarity - Clear your mind with Fresh Rose Geranium, Rosewood, French Clary Sage, Lemon, and spice.
Free - be uplifted with summery Jasmine, Cape Rose Geranium, Fresh green Petitgrain and Citrus.
They are 100% essential oil perfumes aimed at teenagers and adults (not suitable for young children or babies). They come in a handy rollerball bottle and high quality packaging which makes them an ideal gift.
25% of profits go directly to a charity in Australia called Stepping Stone House which house homeless and at risk teenagers. So this is also a gift with purpose.
All products are tested on teenagers not animals!
Ingredients: Ethanol, 100% Essential Oil feel good fragrance (Perfume).

Size: 10ml

Save this product for later